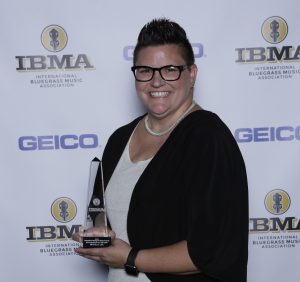 Sundays you can enjoy Michelle Lee and her syndicated Bluegrass Borderline Radio Show from noon until 5pm. Michelle Lee started the Bluegrass Borderline over 20 years ago and listen to the Weekly Top 10 Countdown. Michelle Lee, 2022 Society for the Preservation of Bluegrass Music of America (SPBGMA) Bluegrass DJ of the Year and the 2019 International Bluegrass Music Association (IBMA) Broadcaster of the Year. Along with being an On-Air Personality, Michelle Lee is also the website manager, sales rep, Trade Director and Promotions Director for WOBL/WDLW.
Michelle Lee is the youngest of ten, born in July and from Sheffield Lake, OH. She attended Lorain Catholic High School and played softball and basketball. After high school, Michelle Lee attended Ohio Center for Broadcasting (OCB). Her education continued as an intern on the radio at the Rock n Roll Hall of Fame, WQMX, and WOBL. From there she has worked at WOBL/WDLW, WKFM, WLGN in Ohio and WFTZ in Tennessee. Throughout more then 28 years of being an On-Air Personality and gaining so much experience, Michelle Lee started an online tv show Real Talk on Bluegrass Music TV where she gets real with artists, song writers and many more. If she isn't on the radio, she is probably enjoying walks along Lake Erie, taking pictures and enjoying the fresh air.
Michelle Lee's favorite artists that she has interviewed were Tanya Tucker, Trisha Yearwood, and Doyle Lawson but honestly, too many to mention. She would love the chance to be able to interview Dolly Parton, Reba, George Strait and Wynonna. Michelle Lee loves to interview artists, share them and their music with you and provide you the best music daily.
Make sure to tune in and listen to Michelle Lee on the Bluegrass Borderline, you just never know who she will be interviewing. As her fans help fuel her to give the best shows, Michelle Lee herself is driven to be the best and every show Michelle Lee does, her passion for music and love for the industry and fans is felt in every word, demonstrated in every show closing, "Until next time...I thank you"!